Hebben Cecil en Blood Lions nog niet genoeg ogen geopend?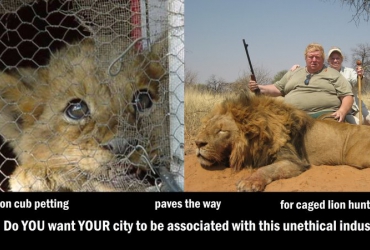 Etten Leur - 11 oktober 2015 - Na alle ophef rondom de dood van Cecil en het uitbrengen van de documentaire "Blood Lions" zou je toch verwachten dat het tij zou gaan keren. En dat doet het ook wel. Maar wat je ook ziet is dat het financiële gewin blijkbaar toch belangrijker is, voor sommigen, dan het dierenwelzijn.

Tegen alle stromen in is er toch weer een plan om een "wildlife park" te openen in Zuid-Afrika waar het mogeljk is om welpjes te knuffelen.

Via deze weg willen we dan ook oproepen om de petitie te tekenen die er voor kan zorgen dat dit niet gebeurt. De petitie is hier te vinden: https://www.change.org/p/the-george-municipality-deny-george-wildlife-park-the-opportunity-of-establishing-any-cub-petting-facilities-in-our-town-as-this-seemingly-innocent-industry-is-the-basis-for-a-much-darker-side-that-of-canned-hunting?source_location=petitions_share_skip
In die petitie staan wat namen waar een protestmail naar toe kan en dat heb ik enkele dagen geleden gedaan. Naast wat boze reacties van mensen:) kreeg ik net dit antwoord;

Dear Complainant

The municipality takes cognisance of your view points, but we are unfortunately not the competent authority to rule on matters concerning animal rights. This competency lies with the Provincial Government.
You can send any complaints to
Barend Le Roux (bleroux@capenature.co.za) or
Danelle Kleinhans (dkleinhans@capenature.co.za).

Het is van belang dat bij deze mensen een protestbrief komt. Zouden jullie dus svp de petitie willen tekenen en deze plaatsen op jullie social media en daarnaast een protestbrief willen schrijven naar bovenstaande mensen.

Een voorbeeldtekst zou kunnen zijn:

Dear Mr Le Roux and/or Mrs Kleinhans,

I have come to the understanding that your organisation is considering giving permission to set up a new park in George, George Wildlife Park. As I understand cub petting will be allowed in this park.

Cub petting is a cruel industry. For example: in order to tame the predators and imprent them on humans, they are taken away at a very young age from their mothers.
Certainly animals like lions, get unpredictable at a certain age and need to be replaced by new animals. It is uncertain where these grown animals end up. They might end up in canned hunting but even if not, the breeding of these animals has no conservation value since they can not be placed in wild nature.

I am very opposed against cub petting. I have just signed this petition and I will ask my friends to do the same;
https://www.change.org/p/the-george-municipality-deny-georg…

South Africa already is getting a very bad name in regards with cub petting and canned hunting. By facilitating this new park, you will just enlarge this negative pr. I sincerely hope you will decide not to go through with it. And not give the permission to set it up.

Best Regards.....................
socialMediaShare($pageContent);?>